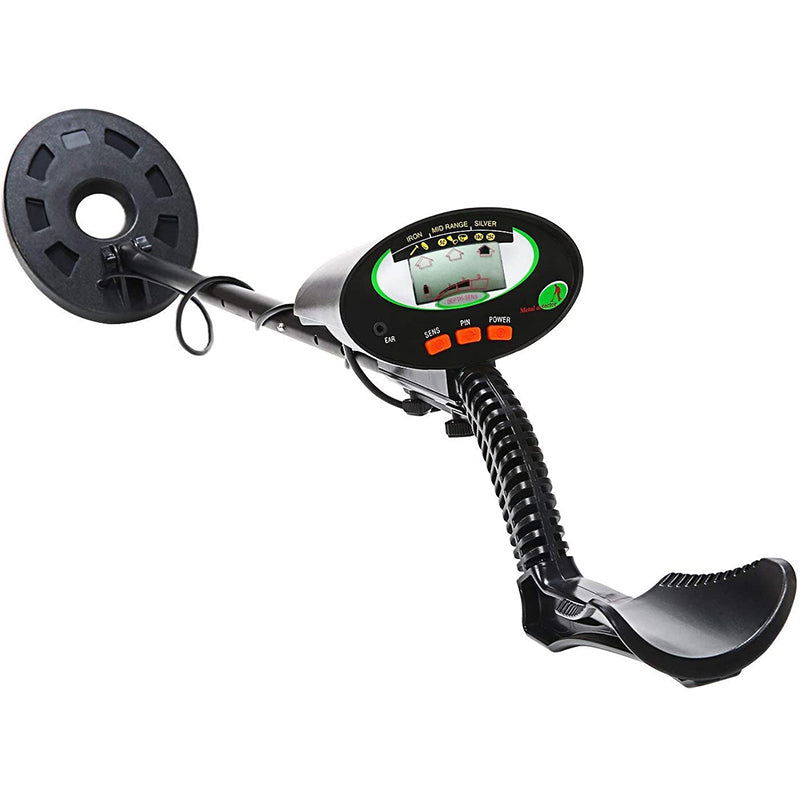 Need to find gold & silver jewelry, coins and other metal in the ground? Try this one. With this powerful and versatile metal detector, you can hunt for coins, relics, jewelry, gold and silver everywhere. It is also widely used in detecting aluminum, copper and rare metals and anywhere that hidden metal needs to be detected.
[6 kHz High Frequency / 8.5'' Waterproof Search Coil/metals discrimination 9 kinds] - With Automatically Ground Balancing and adjustable sensitivity, this 6kHz high-sensitivity detector can easily and accurately locates even the tiniest pieces of gold. The 8.5'' waterproof search coil will detect 9 kinds of metals including Gold, silver, copper, coins, artifacts, jewelry, etc. in no matter beach, shallow cave, rivers where a lot of gold is located. The coil angle and length are adjustable, you can adjust to meet your needs.
[2 Modes of Operation/ Adjustable Sensitivity] Adjustable sensitivity and volume, . Simple user interface with 2 find modes for a fast start with no complicated settings. ①All METAL - the metal detector notifies you whenever it sees any metal. ②PINPOINT - This mode aids in the detection of metals.
[Multi-Function Folding Stem] Both the angle of the coil and length of the stem are adjustable (37-47.64inch), you can easily set the coil to be paralleled to the ground of shoreline. Sponge pad provides comfortable grip to reduce fatigue and tension on finger joints.
[Easy Operation with LCD Control Box] The controller adjustment and result of the detection will display on the LCD. The full digital positioning circuit shows high accuracy of locating and excellent anti-interference ability.
[Waterproof Search Coil] Both the stem and the coil at the end are waterproof, especially suitable for use outdoors, on the beach or in the stream. But it should be noted that the display panel should be carefully away from water

SPECIFICATIONS:
Detection Mode: ALL-METAL,  PINPOINT
Operation Frequency: About 6KHz
Coins Depth Indication: 2〞,4〞,6〞
Sensitivity Control: 3 SENS SEGMENTS
Detect Objects: 9 kinds
Sound frequency: Three kinds of frequencies indicate different metals
Search coil: 8.5'' open waterproof search coil
Ground balance: Automatically balance
Detection Depth: 0-15cm / 0-6inch(Notice: The depth of 6 inches is for a coin-sized metal. The larger the metal, the deeper the detection depth.)
Power supply: 6*AA battery (not supplied)
Earphone jack: 3.5mm audio jack(not supplied)
Application scenario: Outdoor, sand, creek
Packing List:
1 X Nalanda Metal Detector

1 X manual guide

Ship From Sourcing Place
Standard Shipping
Handling Day:1-3 Business Days, Arriving Day: 15-45 Business Days

Cost: Free

Country/Region:Sourcing Place

COVID-19 | Shipping

As the world adjusts to the impact of the coronavirus (COVID-19), shipping is inevitably affected. Every country and region is facing shipping delays of various degrees. ECVV.es team will do our best to keep you updated and informed about your order during this time as new information becomes available.

Regions heavily affected by the pandemic will be subjected to possible delays. Thank you for your understanding and we apologize for any inconvenience this may cause you.

If you have any questions or concerns about your order, please email us at support@ecvv.com and our team will be happy to assist you, 7 days a week.
Shipping FAQ

1. When will I receive my order?

For Standard Shipping from Sourcing Place: Most items are usually shipping in 15-45 business days. We do recommend allowing up to 3 weeks for your order in peak times, such as a special offer or promotion.

If your order is backordered or not shipping for two or more business days, please feel free to contact us immediately at our Support Center: +86 755 82468418 and we will do everything we can to accommodate your request.

2. How do I track my order?

Your delivery confirmation email will contain your tracking number and order details.

3. Taxes and other charges?

Depending on the country of delivery, you may be required to pay extra tax or charges such as VAT and/or import duties.

4. About the Shipping fee?

Standard Shipping is free shipping.
ECVV.es guarantees free returns and replacements service if you are not 100% satisfied with our products. Kindly return the purchase for a refund up to seven (7) days from the date of the order delivered. If you have any problem with the item please feel free to contact us immediately at +86 755 82468418.
Returns Process.
Please contact us if you want to return an item. Return without prior discussion and authorization will not be accepted.
When returning a product, please do the following:
Please email

 support

@ecvv.com. we will keep you updated by email.
Please put a form inside your returned package with: the reason for return, the purchase date, the original invoice number, and the item number for the product.
Proof of purchase from ECVV.es is required for all returns.
Ship the package to the designated address, the address will be provided by email after your return application is submitted.
Please prepay shipping – ECVV.es does not accept Cash on Delivery (C.O.D.s).
Request For The Returned Items.
Items received unused (without the smell of perfume), unwashed, not in damaged or worn condition (only when the items are defective or damaged upon receipt).
Items received in original packaging and would not make any influence for second-sale.
Non-returnable items.
Custom items or designated sourced products
Emergency response items
Items Marked "Non-cancellable: and/or "Non-Returnable"
Product is slightly used or altered
Product is damaged due to misuse/overuse
Return and Refund Process
Once your return is received and inspected by the fulfillment centers (usually within 3-5 working days of receipt), your refund will be processed and a credit will be automatically applied to your original method of payment within 15 working days.
ECVV Cancellation Instructions. 
Due to the speed we fulfill your requests, we are unable to cancel orders for immediate shipment. If your order is backordered or not shipping for two or more business days, please feel free to contact us immediately at our Support Center: +86 755 82468418 and we will do everything we can to accommodate your request.
Replacements
You can replace an item if your replacement meets certain criteria.
Shipped to a delivery address within Spain
Shipped and sold by ECVV.es
Not an Add-On item
Not marked as a gift
Wasn't purchased with a promotion (except for free shipping promotions).
Note: In most cases, you are required to return the original item received for a Replacement. You'll need to return the original item with the guide of ECVV.es Support Center to avoid being charged for both the original and replaced items.